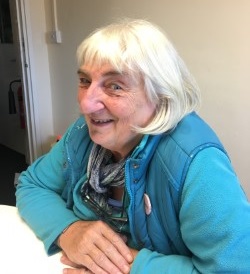 Although now officially retired, I am still in unpaid work for 15 – 20 hrs a week. I trained as a linguist (German and Spanish, French and a little Italian). I was briefly a dictionary editor, then a medical herbalist (8 years), and for 20 years had my own horticulture business. I was an independent prison monitor (14 years), health researcher (6 years) and academic proof-reader (15 years). I have done unpaid work for 20 years, currently as a school governor (12 years), and hospital visitor.
My engagement with heritage/historical research is a natural progression of lifelong political activism, including Quakerism, feminism, LGBTQ rights, Greenham Common and the Occupy movement. I have enjoyed volunteering for the last six years with Global Link's Documenting Dissent projects, researching a range of historical topics including early Quakers, Occupy Lancaster, Lancaster's LGBT history and Lancaster women's activism in peacetime and war.
I enjoyed meeting the Learning from the Past European research partners in Lancaster in February 2019. It was a privilege to attend some of the training sessions, both as a speaker and a participant, in a project which will contribute to a safer future in Europe and the world.
I can highly recommend volunteering with projects like Documenting Dissent and Learning from the Past as an opportunity to exchange ideas, meet new people, research a topic of personal interest, expand one's horizons visiting archives and museums – and learn about one's hidden strengths.