The success of the Learning from the Past project is heavily reliant on the work of our volunteers. Here we present profiles of some of them and the contributions they have made.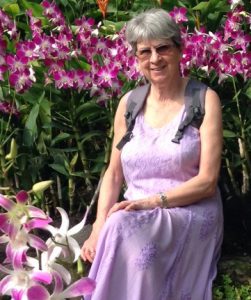 Caroline Morrison
I spent most of my working life in Local Government working in Licensing at Lancaster City Council. I retired in 2012, although I returned to work for six months in 2018 on a temporary basis. In the 1980s I was made redundant and decided to return to study. I pursued my interest in history by becoming a mature student at Lancaster University. I spent ten years there studying and researching modern history, graduating with a PhD in 1996.
I was drawn to working with Global Link after an absence from history research of nearly twenty years. The first project I worked on as part of Documenting Dissent involved researching two local First World War conscientious objectors. This was close to the work I had done on my thesis. I have since worked on the Women, War and Peace and WWI: Sowing the Seeds of Global Citizenship projects, both of which continued my earlier research.
Most recently I have been involved in the Learning from the Past project. It was lovely to meet all the partners who are contributing to this project when they came to Lancaster for the training week and I look forward to working with them over the coming months. It is exciting for me because it will build on my contribution to the Sowing the Seeds project by adding a European perspective to the development of internationalism after the First World War. I wrote entries for the map about the League of Nations and the challenges it faced in the 1920s and 1930s. The partners, by using primary and secondary source material in their respective countries, will add an invaluable dimension to the global map. When I first started work on these projects I felt nervous about committing as it had been a while since I had done any research or writing. Also, I knew no one in the group and lacked confidence in my ability to offer anything useful but I am so glad I persevered. Working with a small team of volunteers has been a worthwhile and rewarding experience. Sharing knowledge and experience as well as learning new technical means by which to communicate in the modern and ever-changing world has been interesting and challenging.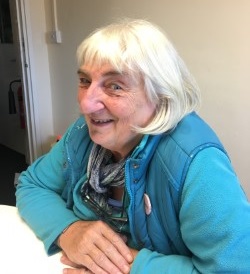 Zephyrine Barbarachild
Although now officially retired, I am still in unpaid work for 15 – 20 hrs a week. I trained as a linguist (German and Spanish, French and a little Italian). I was briefly a dictionary editor, then a medical herbalist (8 years), and for 20 years had my own horticulture business. I was an independent prison monitor (14 years), health researcher (6 years) and academic proof-reader (15 years). I have done unpaid work for 20 years, currently as a school governor (12 years), and hospital visitor.
My engagement with heritage/historical research is a natural progression of lifelong political activism, including Quakerism, feminism, LGBTQ rights, Greenham Common and the Occupy movement. I have enjoyed volunteering for the last six years with Global Link's Documenting Dissent projects, researching a range of historical topics including early Quakers, Occupy Lancaster, Lancaster's LGBT history and Lancaster women's activism in peacetime and war.
I enjoyed meeting the Learning from the Past European research partners in Lancaster in February 2019. It was a privilege to attend some of the training sessions, both as a speaker and a participant, in a project which will contribute to a safer future in Europe and the world.
I can highly recommend volunteering with projects like Documenting Dissent and Learning from the Past as an opportunity to exchange ideas, meet new people, research a topic of personal interest, expand one's horizons visiting archives and museums – and learn about one's hidden strengths.