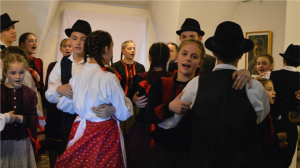 A group of young people worked with ATA to explore the stories from Transylvania, Romania. Some then worked on their own to create photographic and film work that responded to the stories. Another group worked together on a dance piece.
Bond (Kötelék) by Lea Busch-Szabó
Lea made a short film, using shadow play, about the story of Elek Vékás. She asked acquaintances to say a few sentences about war in different languages. She described the process of making the film as liberating, as she spent afternoons with her friends and other people, getting to know them, listening to their experiences, or those of their parents or grandparents, about the war. It gave her an insight into the world of war and how people experienced it.
The idea of shadow play appeared at the last minute, as before that Lea had planned to make a silent film. However, she realised that her message was best conveyed in words. Lea chose to put her characters behind a canvas, as it doesn't matter how they look, who they are or what they say. After all, as Lea said, war is about nationality, religion, skin and eye colour. In her film, she wanted to make the point that "everyone is just as human as ourselves".
Memorial Images Today from the Past by Nóra Anetta Nemes
Nóra Anetta created a photographic piece about the life of Ferenc Balázs. She said:
"In this region most of us know about his life but, unfortunately, we are not aware of the desire of his work for our present. I wished to take these pictures and show them to the world in the hope that everyone will look behind this artwork and get to know more about this person and the work he did.
I asked two of my friends in Küsmöd to be the characters in my photoshoot and I also used old tools mixed with things from today. It was a pleasure to work for this project. It felt nice to work with the past for the future". 
Hard Times (Nehéz Idök) by Simófi Levente
Simófi liked the idea of processing the stories of others as he felt that people could imagine themselves in their situation a little bit and learn from that. He worked with friends and classmates to make a short film about the life of Mózes Szabó. The locations were provided by his local town, Cristuru Secuiesc. Despite difficulties, everyone helped where they could, proving, as Simófi said, that they could overcome obstacles to develop peaceful cohesion.
Hear from the young people above about the creation of their artwork:
Dancing around the Past by Wild Roses Folk Dance Group 
Students from Berde Mózes Unitarian High School in Cristeru Secuiesc, Transylvania created a dance piece, inspired by the story of Aron Buciumeanu, a former pupil of their school. Members of the school's folk dance group developed their piece based on the Boncida, a joint dance of the Romanian and Hungarian people, which was formed in the Hungarian countryside after Romanians moved there.
The dance is a symbol of the power of arts to create community. The students felt it showed the importance of tolerance and acceptance.
Learn more about the story of Aron Buciumeanu and the creation of this dance piece:

This work is licensed under a Creative Commons Attribution-NonCommercial 4.0 International License.