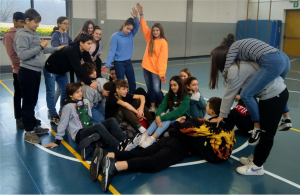 Students from three secondary schools in Brescia – Gussago, Virgilio and Castegnato – explored the Italian stories from the map. The starting point was a series of questions such as 'What do you think about these stories?' and 'What sounds like a contemporary lesson for you?'
The students shared their feedback to these questions through theatre games and exercises, which created the building blocks of a play called Desks of Peace.
Desks of Peace
Desks of Peace is a three-scene play about three of the Italian stories from the map. The emphasis in the script is on the heavy decisions that people had to take and the relationship between peace and personal freedom.
Download Desks of Peace (in the original Italian).
When lockdown happened, the students were unable to perform their play. Instead, they took their work online and created two films. 
In this film, Rosa Genoni, According to Me, the students reflect on the story of pioneering fashion designer and peace activist, Rosa Genoni, and what her story means to them.
In this film, called Liberty, you can hear more about the students' ideas about concepts of peace and freedom:
Find out more about the students' work during this project, both offline and online: